Has anyone created GAD-7, PHQ-9 or Edmonton Frail Scale forms that they can share please?
Hi @PeteBoyd,
I have created the GAD-7 form please let me know if you want the demo for the GAD-7 forms.
Thanks,
Nilesh
Great, yes please Nilesh.
Is this the PHQ9 that you are looking for? Also, do you need it to auto score and set the severity programmatically?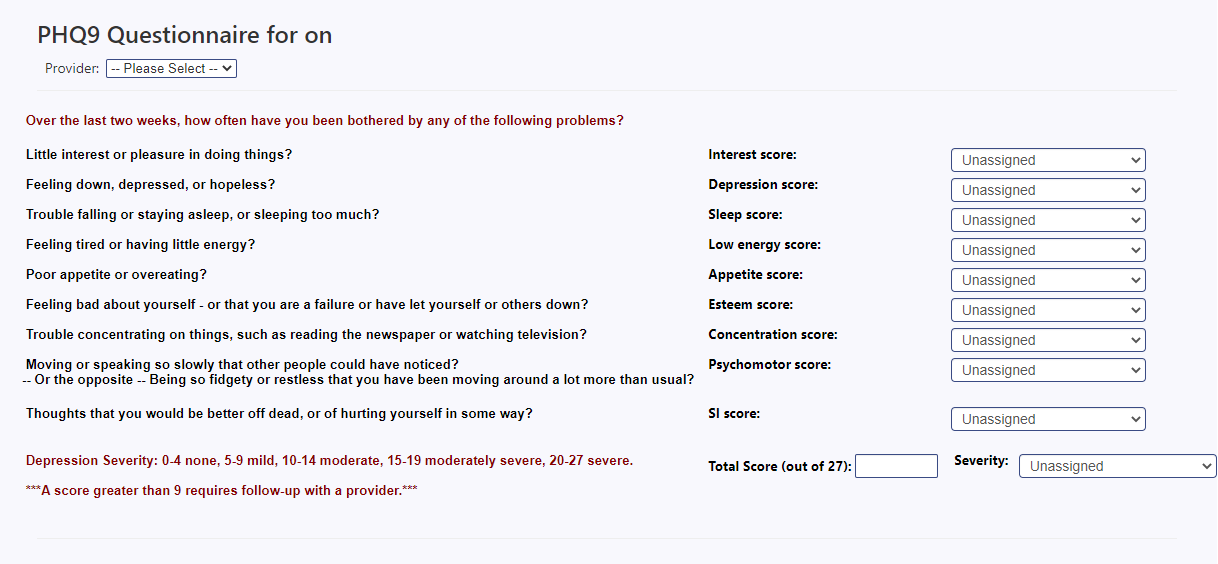 @PeteBoyd give me a couple of days to get this ready for you. There seems to be a problem with the configuration import @visolve-051. When I try to import the config file that was exported from the system. I get the There was an error on the backup. Hopefully there is a patch for this that @vishal_io has.
Please don't worry @juggernautsei, because I need it today. I am happy to pay for features, but in the case of the PHQ-9, apart from the calculation it is easy for me to create this particular form myself and I need it right away – I just wondered if anyone had made one already that they could share immediately. Thank you anyway.
@PeteBoyd here is what you are looking for. The bottom link will take you straight to the forms.
Thanks @juggernautsei but Dr Boyd's PHQ-9 form appears to be written for OpenEMR 4.2 and in 2017 Brady Miller said it will need work to get working for OpenEMR 5. We've written our own LBV form for now.
Pete, can you share the forms with the forum?