Patient Dashboard Nav Bar is broken when viewing in another language (Arabic). Chrome or Edge on Windows 10.

Hi Mohamed,
What version of OpenEMR are you using? Is this on a smartphone, tablet, laptop, etc.?
I'm not able to replicate the issue in the 6.0 demo version in microsoft edge.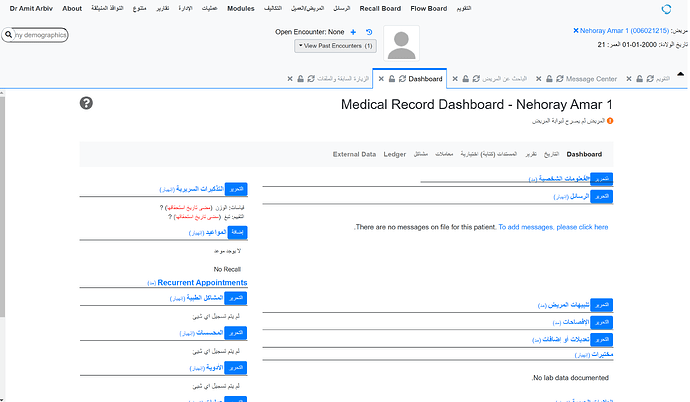 V6 on laptop running win 10
Interesting. I see what you're seeing when I use the main demo which uses the dark theme. When I tried the alternate demo - a which is in the light theme it doesn't occur. It could be an issue with the theme.
i am using ash blue theme i guess let me change the theme.
Looks like an issue with styling of the "Billing" widget in that summary screen.
changing theme to light didn't help
I confirmed this bug in the dev version of OpenEMR in light and dark theme.
so how do i work around this bug
For now, would just turn off the billing widget:
Administration->Globals->Features->Hide Billing Widget
On a somewhat unrelated note if you want to replace the bits of leftover English with Arabic you can request editing privileges in the translation spreadsheet and the translations you contribute should be included in the next version of OpenEMR.
Translations are pulled from this google spreadsheet.
If you're signed into a google account in your web browser and the green button says "view only" you can click on it and select "request edit access."
I already started doing some translations but am busy for the time being.