Situation
Our clinic has upgraded from OpenEMR 5.0.1(7) to 5.0.2. Occasionally, a particular tab (?frame) cannot be displayed and give a message with a path and a message suggesting that perhaps the web server is temporarily down or the page has moved.
Here is the kind of message we see:
[

] The webpage at https://…/interface/main/calendar/index.php?=module=PostCalendar&func-view&tplview=&viewtype=day&Date=20190820&pc_username=&pc_category=&pc_topic=
might be temporarily down or it may have moved permanently to a new web address.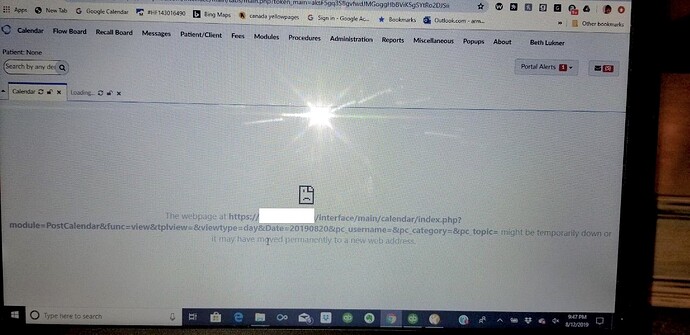 OpenEMR Version
I'm using OpenEMR version 5.0.2 AWS Standard using a Windows 10 Chrome or Edge browser (more frequent errors than in other environments, especially with several tabs open) or macOS Mojave laptop with Chrome or FF (less commonly seen on the Mac).
Browser:
I'm using: mostly Chrome and FF latest versions on Windows 10 or macOS Mojave.
Operating System
I'm using: AWS Standard
Logs
Someone remind me where to look for the logs (path) ;-).
The issue is not limited to the calendar. I have seen it happen on a tab that was holding a patient's encounter (with the various Encounter, Vitals, SOAP, etc. templates) becoming inaccessible. When this happens, other functionality seems to work fine (can open other charts, view various reports) but whatever was contained in the "broken" page cannot be accessed in that Web Client session. The "fix" is usually to use a different computer, restart the browser, or something very "aggressive." Simply closing the web client tab and opening a New OpenEMR session usually does not correct the problem.
I was holding off on reporting this because I wanted to figure out how to reproduce the problem. I have tried for a couple of weeks and cannot come up with a way to reliably reproduce this issue. One factor seems to be having multiple tabs (other web pages, etc.) open. Opening other OpenEMR session tabs is not required to see this problem as far as I can tell.
It happens often enough to one user (who seems to have a lot of other web sessions for billing services, etc. open) to make that user think that 5.0.2 is far less reliable and usable than 5.0.1(7) was and needs other users to "look up" information on different computers because it isn't possible for that user to retrieve certain information from OpenEMR. Most users seem to be OK because they tend to have fewer browser tabs open on their computers.