Please help me to figure out.
How we can add external data to patient summary in OpenEMR version 5.0.1 ?
@Paul Some details please:
What sort of external data? I.e., importing old labs, or vital signs, or progress notes, or what?
Where in the patient summary does it need to be displayed?
Thanks- Harley
Thank you for your time.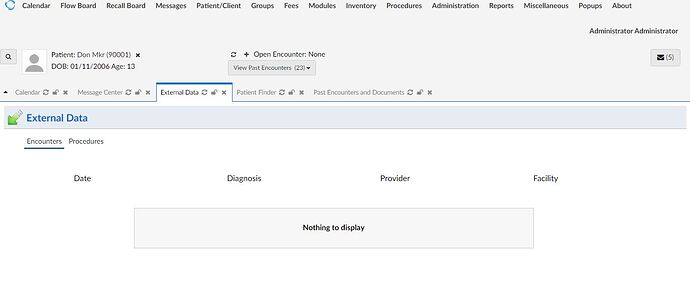 External data that should displayed on patient summery screen, Encounter and Procedures.
@Paul
The data from external_encounters and external_procedures tables will be displayed here(External Data).
Please try by importing patient data using CCDA.
Thanks
ViSolve-120
Thank you for your time and support. Issue resolved.
I am using version 5.0.2. Please describe how to get xml file & how to export patient data for importing into CCDA. And how to get records under external data tab.
I have followed https://www.open-emr.org/wiki/index.php/Use_the_Carecoordination_module these steps, but no data is under external data tab. And getting connection failed error while exporting CCDA.