C:\wamp64\www\openemr\src\Menu\MainMenuRole.php on line 68
whats is that error…
how i can fix…
thanks.
Can you describe under what circumstances the error occurs?
Just run openemr and login user
Notice: Only variables should be passed by reference in C:\wamp64\www\openemr\src\Menu\MainMenuRole.php on line 68
this full error send me…
thanks.
That doesn't seem like an error, they are logs from php/apache (Notice). Maybe you have selected deuration in Globals. You must modify Administration/Globals/User Debugging Options. If you prefer you can send me a message in Spanish (if you speak Spanish)
regards
luis
Gracias Luis bueno segui los pasos de configuracion de php.ini, todo la configuracion paso bien pero al entrar el emr pide el usuario y password, lo pongo y me manda al dash board or menu principal, aqui te mando el error que me muestra en la imagen adjunta.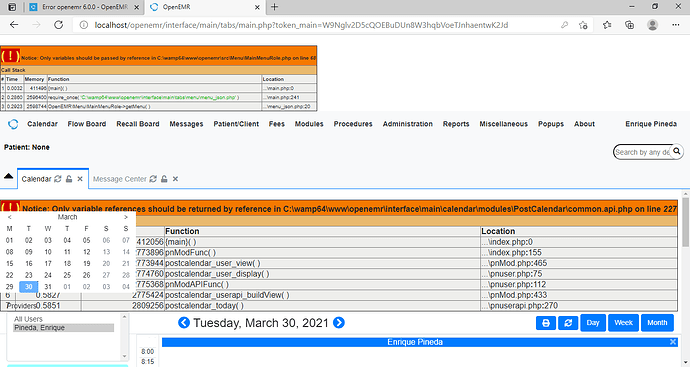 si algun cambio no lo hice no se puede trate de hacerlos todos los cambios que me pidio.
gracias.
Make sure display_errors = Off in php.ini
Hola. Si esta bien. No es un error lo que usted ve, sino son mensajes (logs) de su servidor web. Esto no es problema de OpenEMR. Por favor, pruebe modificando el php.ini de su servidor (como lo especifica @sjpadgett ). Si sigue con los mensaje me puede contactar por privado.
Suerte,
Saludos
luis