Situation
We are having issues with our OpenEMR's instance's integration with EMRDirect, the Clinical Direct Messaging service that is used between EMRs. The service was working well until recently where with one of our clinical partners have sent us 5 messages and the EMR has had a polling process issue where the body of the message is retrieved but not the attachments (PDF, xml files etc). As a result of the failure of the polling process, the messages remain in unretrieved. According to the EMRDirect Support, the reason for this error is due to MIME types not being whitelisted. We are unable to know which MIME file types are being white listed as the interface is not appearing on our side. Under Administration->Files, there is no interface on our instance of OpenEMR like for them:
Our instance: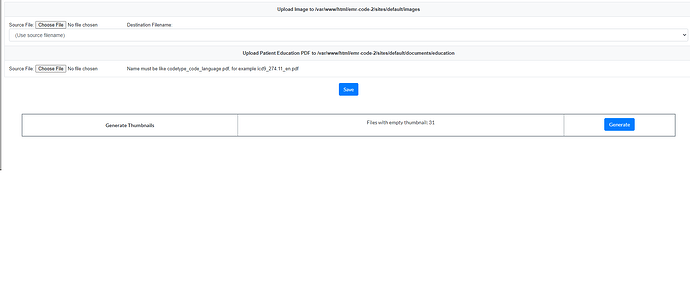 I would appreciate any assistance with this as I am not sure what we are missing in our instance that this process suddenly stopped occurring. Looking at the public Github, the relevant files to MIME and Direct Messaging that were directed to us haven't seemed to be updated in 2 years (such as library/direct_message_check.inc and /interface/super/manage_site_files.php.
Would appreciate any insight/assistance on this.
OpenEMR Version
Version 6.0.0 (Edited after realizing I did not include this initially apologies)
Browser:
I'm using: Google Chrome/Firefox
Operating System
I'm using: Windows, Manager uses Linux
Logs
See system logs from EMR. This message will occur after every refresh process
'''|10/21/2021 11:25 am|direct-message-check|direct-message-check|phimail-service||0||0||M7 store non-text body failed|'''
'''|10/21/2021 11:19 am|direct-message-check|direct-message-check|phimail-service||0||0||M7 store non-text body failed|'''
'''|10/21/2021 11:14 am|direct-message-check|direct-message-check|phimail-service||0||0||M7 store non-text body failed|'''