Situation
I am attempting to install OpenEMR on Windows 10 Pro 64-bit. I'm not sure if I am missing something, or if something is just not connecting but, I changed all of the PHP settings in the directory C:\xampp/php/php.ini
To be sure it wasn't interfering, I also stopped the antivirus temporarily while trying to install this to no avail
I'm a new user so I cannot upload the file for it, and it exceeds the character allotment for new users, so I will post it in two separate parts.
I made it to Step 3, then it got stuck here:
OpenEMR Setup
    Step 3

    Configuring OpenEMR...

    Connecting to MySQL Server... OK.

Here is what I am getting: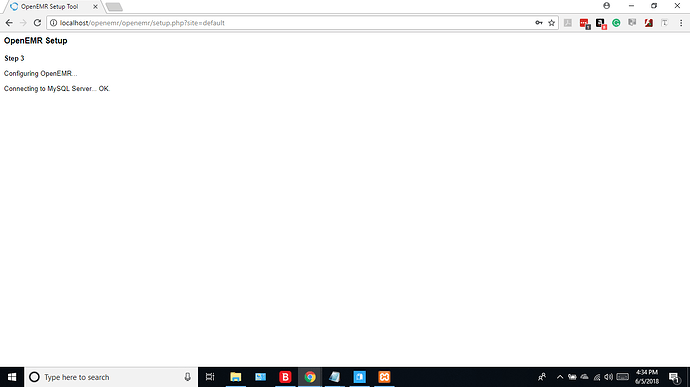 OpenEMR Version
I'm using OpenEMR version 5.0.1
Browser:
I'm using: Chrome
Operating System
I'm using: Windows 10 Pro 64 bit