Situation
Hello members. I have used openemr since 2017 and done a lot with it, therefore that all for your contribution.
I recently came across Form maker and I have been trying to make custom forms, but unable.
I have followed all the instructions laid out here ( OpenEMR Formscript Form Creation Tool - OpenEMR Project Wiki ).
I first stared by installing PERL in my system, currently running version 5.30.0.
The problem starts when I run ./formscript.pl or perl formscript.pl. while in /openemr/contrib/forms/formmaker/ where I' m greeted by the error in the screenshot below.

After this I tried to run ./formscript.pl sample.txt and got this error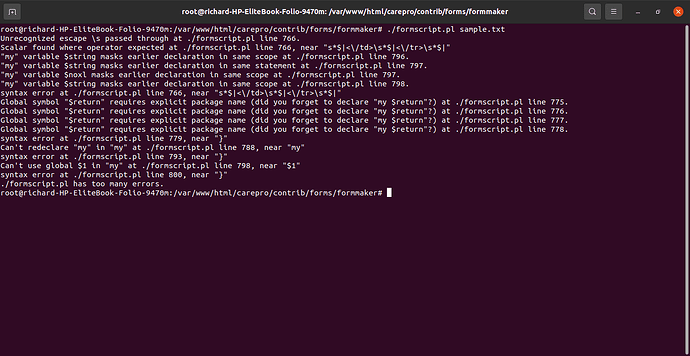 Then I decide to copy the formmarker to openemr/interface/forms/ and on forms administration on openemr try to register the form. When I tried to install the database I get the error shown below.

Is this tool still usable today? I have seen conversations about it that happened long time ago i.e. 2007 and 2008.
Please assist me I want to use this wonder tool.
Regards
OpenEMR Version
I'm using OpenEMR version 6.O
Browser:
I'm using: Chrome
Operating System
I'm using: Ubuntu 20.0