Situation
Describe your problem here:
NOTE: I have cut and pasted the initial posts from another thread so as to create a 'searchable' thread re: THIS specific issue that others may search . . . and hopefully respond to.
Dan,
I am wondering if you can help me . . . again.
I previously had no problems opening EMR in Chrome (unlike the piror problem I had with Firefox). However, when I now try to access my OpenEMR instance on Chrome I get the following message. This has happened previously when I have installed other instances of OpenEMR. In those situations, I could not resolve the issue. I simply terminated the instance and reinstalled a different instance. With this last instance, it seemed to work for the longest period of time than my prior instances. However, I am now getting this message again (I have not accessed the instance in several weeks - if not a month).
I am obviously hesitant to start populating the EMR if it periodically does not give me access. Is there something I can do on my end? Of note, this happens on multiple computers at multiple locations - home, work.
Thanks for any help you can provide.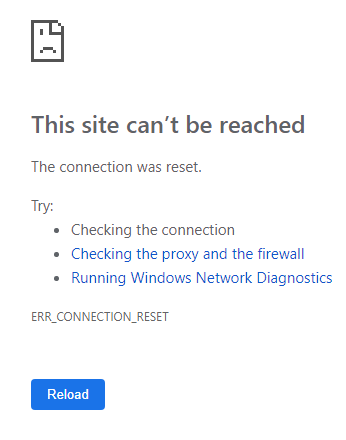 cverk
I have seen that error when the database was not running in xampp. Try running control panel and make sure apache and mysql are running
Dan,
Thanks for your help. I installed APACHE and MYSQL using WAMP. While I'm not a pro at this stuff, I followed the directions on makeuseof.com (https://www.makeuseof.com/tag/how-to-set-up-your-own-wampserver/) and the WAMP program itself, and it seemed to have installed correctly. When I check in Task Manager I see that both APACHE and MYSQL are running. However, when I try to access my instance I get the same warning I referenced above.
I really am at a loss. I am anxious to use the OpenEMR clod edition (Express Plus), but I seem to run into this problem with each and every instance. That is, it works for a few days/weeks, but than my book mark stops opening up the log-in page. Same machine . . . same browser . . . it just stops working. After one loss of data, I have been very hesitant to populate my charts fearing I will - yet again - loose access.
Do you have any other suggestions? I cannot for the life of me understand why it would lwork well for several weeks, but than all of a sudden stop working.
Thank you for any help you can provide.
Tom
OpenEMR Version
I'm using OpenEMR version: Express Plus
Browser:
I'm using: Chrome (but also have this problem on Microsoft Edge, Internet Explorer and Mozilla)
Operating System
I'm using: Windows 10 (but also have this problem when using Chromebook)