Greetings from PERU!, is there any paper or wiki describing login process in OpenEMR ?
Hello @Fernando_Guerra
Here's the url for the wiki,
https://www.open-emr.org/wiki/index.php/OpenEMR_7.0.0_Users_Guide
you can search it for references, maybe you can find something relevant to what you're looking for.
The EMR does have a system log tool found at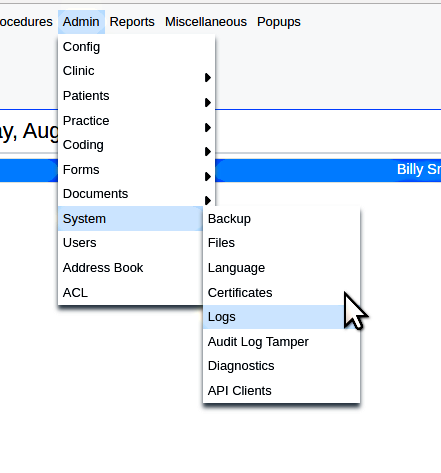 but it only says that the event that just happened is a login, rather than listing the activities involved in a login.
I'm not a dev but I wonder if looking at your OpenEMR's server logs would tell you any worthwhile information?
Good luck!
Hello y Thanks !
I've been trying to debug login process by checking :
/interface/login/login.php
/interface/main/main_screen.php
I want to know function/process validating 'authUser' and 'clearPass' data.
Any advice about it ?
Greetings from PERU
FER
Hello y Thanks !
I've been trying to debug login process because maybe some customizing
/interface/login/login.php
/interface/main/main_screen.php
I want to know function/process validating 'authUser' and 'clearPass' data
Any advice about it ?
Greetings from PERU
FER
Authuser,password validate file name is src\Common\Auth\AuthUtils.php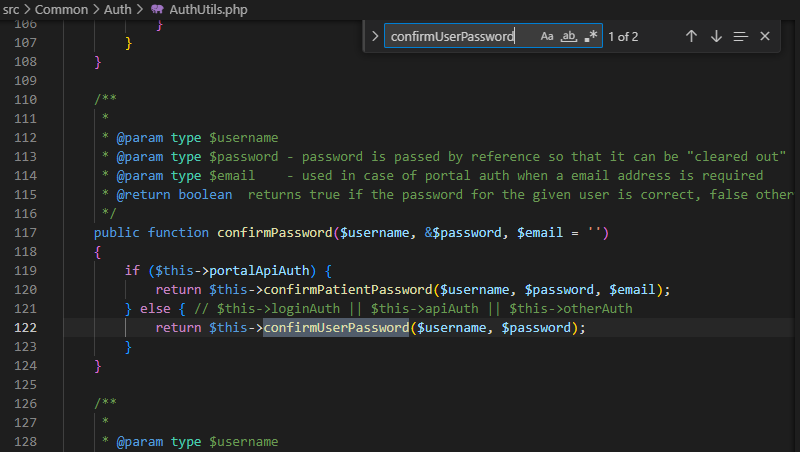 refer these file you can get result
Hi ! Thanks so much
I've got entire workflow
login.php → main_screen.php → globals.php → auth.inc.php → AuthUtils.php
This concept of NameSpace is so great
Thanks
Greetings from PERU
yes.the flow is correct